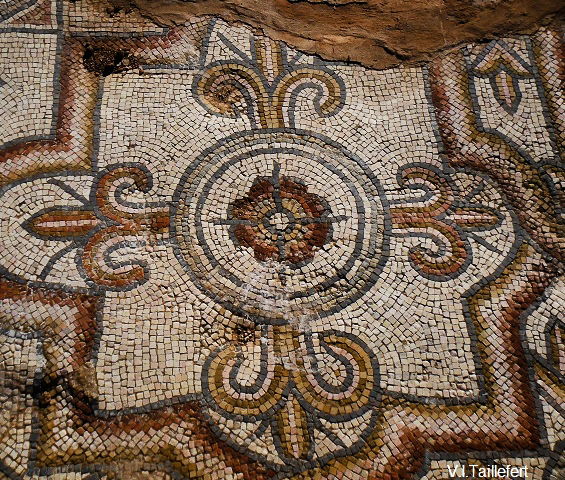 Transjordan countryside and cities, at the limit of the Empire, are not affected by the upheavals, the decadence and the political troubles in Rome. The transition from the Roman Empire to the Byzantine Empire happens in the continuity for our area, which is undergoing an increasing prosperity.
The Byzantine period is indeed characterized by a population explosion, which will further accelerate deforestation, a very satisfying life standard in the growing urban centers and over all the development of an art which is going to become typical for Jordan: the mosaic. The Christian communities, who had taken refuge beyond the Jordan River, can now flourish under the protection of the Byzantine authority and numerous churches are erected. The Christian faith is welcomed everywhere till in remote areas, The religious building provide a favorable framework for artistic expression, even if the designs still derive their inspiration from a henceforth pagan culture. Remains of this time are countless and only a little portion of them has been excavated, preserved and exhibited to the public. We know that a lot of archaeological treasures remain buried under ground, as the Byzantine artists had unsurpassed productivity. Visiting Madaba, the Mont Nebo, Khirbet al Mukhayat, Um Al Rassas, Petra will give a good idea of this period. In the Hauran, Um Al Jimal worth the detour: its well preserved basalt houses are impressive and give a picture of what could be a Byzantine city.
| | | |
| --- | --- | --- |
| detail of Khirbet Al Mukhayat church mosaic | Abila church | Um Al Jimal |
| | | |
At the Byzantine time emerge the first religious communities, the first monasteries, as in Mont Nebo, wadi Kharrar (near the current site of Bethany)… and the first pilgrims. The Cave of the Seven Sleepers near Amman, the Baptism site, the Lot Cave in Safi and Jabal Haroun become pilgrimage destination. A current of religious asceticism expands from Egypt. Therefore, we can see in Transjordan the first stylites, these ascetics who used to live their religious retreat at the top of a column or a tower, as the Stylite Tower of Um Al Rassas.