Ingredients:
2 medium sized eggplants
4 tablespoon tahini (sesame seed paste)
3 tablespoon fresh lemon juice
1 teaspoon salt
3 cloves garlic, peeled
2 tablespoons plain yogurt (if you are vegan, leave it out)
For decoration: Extra virgin olive oil, Fresh parsley chopped. Also nice are pomegranate seeds or chopped tomatoes.
Cooking instructions:
Wash, dry, and with a pairing knife, score the eggplants vertically about 4 times all around and poke holes all over (about 10 times). Once it looks like it has crossed the path of a serial vegetable killer, you have a few options. Either you can grill them on your outdoor bbq until they are tender on the inside and chard on the outside (about 10-15 minutes turning constantly). This is the most delicious option.
Another option available to those of you cooking with gas is the over the stove technique. You can turn up the gas burner and place the eggplants directly on top; as in sitting on top of the flame until the skin blisters and chars (10-15 minutes turning constantly). This is the most messy option but gives a smokey taste, so worth the mess.
Yet another option, is roasting them in the oven. Simply place the slashed eggplants on a baking tray lined with foil or parchment paper and broil them until they (you guessed it) blister and are tender inside. For this option place the oven rack closer to the top and your broiler on high. This option takes a little longer as they are not directly touching a flame; about 30 minutes, turning them occasionally.
If you are thinking of boiling them because you heard somewhere that this is an option, just stop reading now.
After you have chosen the appropriate cooking technique for your situation, you must peel the eggplants. If you did the first step right, the skin should come right off. Allow them to cool a little before handling; unless you have hands of steel in which case you can dig right in. It is okay, even preferable, if some little chard bits remain, it adds smokey flavor.
Chop the peeled eggplants into thick chunks and place in a colander and allow excess moisture to drain for a few minutes.
Extra tip: My mom usually grills a whole bunch of eggplants, peels them, cuts them into chunks, places them in ziplock bags, and freezes them. This way when she is in the mood for eggplant dip, it's only a blend away.
In the blender, place the garlic and blend for about a minute until they are minced fine. If you are not Arab you might want to use less garlic.
Place the eggplant chunks in the blender with the garlic and pulse 10 times to chop them slightly.
Add the tahini, lemon juice, salt, and yogurt into the blender. Blend for about 1 minute. pulsing and stopping. You want it to have some body, so do not blend until completely smooth and liquidy. Thats why you pulse and not blend continuously.
The vegan option is simply to leave out the yogurt. I use it to brighten the color up a little and add creaminess, but it is just as good without.


Place in a shallow bowl a few tablespoons of mutabal, top with the parsley and olive oil.
Traditionally in Lebanese restaurant it is served like in the picture above, with a swirl and an olive oil moat. Serve with pita, crackers, bread, tortilla chips; anything that will allow you to scoop it into your mouth. Usually it is served at room temperature, but cold is also acceptable.
It also looks beautiful topped with a few pomegranate seeds, which also provide a nice crunch.
This recipe is proposed by: http://www.foodosopher.com/eggplant-dip-a-k-a-mutabal-a-k-a-baba-ganoush/
See also: https://www.mahaskitchensecrets.com/recipes/2018/2/2/healthy-aubergine-mutabal-recipe-video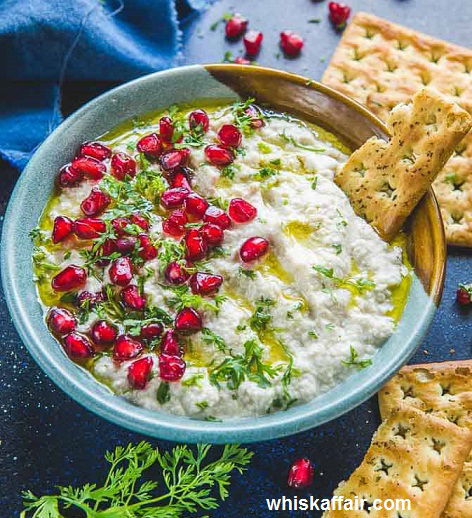 *****