In the early 4th century, when Christianity officially became an authorized religion in the Roman Empire, believers felt free to live their faith and search for traces, relics and founding sites of their religion. That is when started the ascetic movements, the monasteries and memorials, as well as the travel pilgrimages, which at that time are often conducted individually. One of the monasteries functions was to host pilgrims. It is thanks to the researches of monks and pilgrims of the Late Antiquity that the country today keeps the memory of significant places of religious history. However, if early Christians often based themselves on pre-existing oral traditions (i.e. Mount Nebo), or on a continuity of occupation (i.e. Bethany), there was not always been evidence of authenticity. Actually, some places were chosen arbitrarily (i.e. Moses's source).
| | | |
| --- | --- | --- |
| Portrait thought to be Egeria | | |
| | | One of the richest and most interesting testimonies of early Christian pilgrimage is the Journal of Egeria, the narrative of a woman who traveled in the late 4th century through the Holy Land (in the broad sense, it means the Near and Middle East). Her writings have been only partially reconstituted, but it is considered as an abundant source of information, particularly regarding her wanderings in the Sinai, Transjordan, Jerusalem, where she attended various liturgies, in Syria and Turkey today. In our region, Egeria did not stay long. In fact, following the preserved texts, she comes from Jerusalem to cross the Jordan River and see Mount Nebo, where she reports the information given by the monks who keep a very old tradition telling that Mont Nebo would be the place of Moses death. |
As Christianity spread throughout Europe, pilgrimage developed in the East, particularly in Jerusalem. If the holy land attracted the majority of pilgrims, an axis developed to the east direction: Jerusalem – Jordan River - Mount Nebo. Several writings testify that during the 5th century a pilgrimage center existed in Bethany with accommodation structures that still exist today.
Aerial view of the remains of a Byzantine-era monastery complex beside Wadi Kharar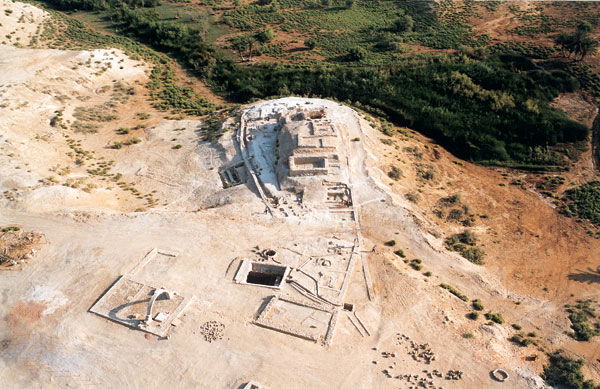 www.biblicalarchaeology.org
Jordan has many sites related to the life of famous prophets. The related pages of this section goes through the country following this perspective, on the steps of the prophets. The early Christians preserved the memory of the places the prophets are suppose to have crossed and they erected buildings where a tradition was mentioning their presence. Those places are the same that you see today during your own pilgrimage.