The large variety of landscapes and environments grants Jordan with a interesting diversity of fauna and flora depending if we are in the North, the Eastern Desert, the Jordan Valley or the South. Moreover, Jordan benefit from an opening on the Red Sea, where the seabed is particularly rich.
Wandering and hiking
Hiking is the best way for discovering this diversity. When possible, it is interesting to walk with a local inhabitant who perfectly knows his environment. No need to be sportive or a trekker of high level to wander and enjoy nature. In every area of Jordan, a half or full day stroll of easy or moderate level can be enough for an exciting discovery.
Birdwatching
Specialist or just amateur, you will enjoy traveling following this theme. Birdwatching lead you to quiet and sometimes very remote places. All our birdwatching trips are organize in cooperation with experts. Birdwatching can be practiced everywhere, as long as your program is flexible and allows unexpected stop and detours. You will over all enjoy expeditions far in the desert, where birds are so unaccustomed to see humans that they come very close to you, even around your feet.
You may also enjoy observing birds inside the RSCN reserves as the bird observatory in Aqaba, the Fifa wetland, Dana, the Azraq oasis....
Geological trips
Even with a classic journey through Jordan, you will be amazed by the geological phenomena which give to Jordan its exceptional landscapes. Just a passing of the Wadi Mujib or a visit of Petra will already give you a picture. Due to its location of the range of the Rift fault and its volcanic specificity, Jordan present a large variety of grounds, rocks and mountains that will surprise you. Beside land exploration, you will probably enjoy a fossil hunting and maybe also a gem jewelry workshop...
Botanic excursions
The blooming season is very short in Jordan. It starts in end of January in the Jordan Valley and reach the higher land in March, till mid of April. After, the sun heat burns the vegetation cover which take a nice yellow-beige color. Failing to be extended, the blooming season is intense and color full. The North of Jordan will offer the frame of very interesting botanic trips accompanied by a local, while the Eastern Desert will offer you fragrant medical plants.
Cycling
We encourage you to prioritize, whenever possible, eco-friendly activities and to minimize the carbon print of your trip... Opt for walking, biking or riding rather than jeep or car tours. Cycling is an excellent way for a deeper discover of different areas, at your own rhythm and in close contact with environment. Crossing the whole country on a bike is of course possible, however, such a long trip is not so eco-friendly that it seems as it supposes the assistance of four wheels vehicles. A valuable alternative is to rent bikes locally to visit a specific areas. Those local rides can be done totally on your own or guided.
Wild fauna
Except birds, desert lizards and insects, it will be difficult to observe the desert wild life, even while hiking in natural reserve, as wild fauna is very discrete and sometimes nocturne. You would be very lucky if you spy some ibex in the Wadi Mujib, a wolf in Dana, oryx in Wadi Rum...The Shaumari Reserve, which is a animal park, will give you the opportunity to spot some oryx from far.
Responsible Horse and Camel Riding
Reserve a necessarily time for your trip in order to get in contact with your environment. Horse or camel riding is a perfect way to connect to the rhythm and the breathing of nature. Your trip will be out of rush, out of stress, out of time. For observing nature, riding is much more appropriate than a safari: you are much more likely to sight wild animals when riding a horse, as the animals detect the horse's odor instead of human's and do not run away... for a deeper experience, do not limit to a some hours trip but foresee several days during which you will just ride between earth and sky and spend nights under stars... or join our activity "Back To The Trade Caravans"


Snorkeling and diving
Aqaba is well known as a diving destinations and counts not less than 20 dive sites with easy access. Aqaba Gulf is home of an extremely rich marine fauna and flora. Even if you are not a diver, you can enjoy a discovery of the marine life close to the beach where you will be amazed by wonderful corals, fishes and all kind of little marine creatures.
If you don't have the possibility of enjoying snorkeling or diving, you can eventually visit the Aquarium. Although small, it offers the possibility to admire some common species seen in the Aqaba waters and learn about the preservation programs the Aquarium carries out.




CLEAN UP TRIPS
Nature discovery activities can be couple with a cleaning initiative: in Aqaba are organized snorkeling excursions where you help to collect while exploring the marine life. If you are not a diver, you can participate while snorkeling or even by cleaning the beach. Every little hand is welcome!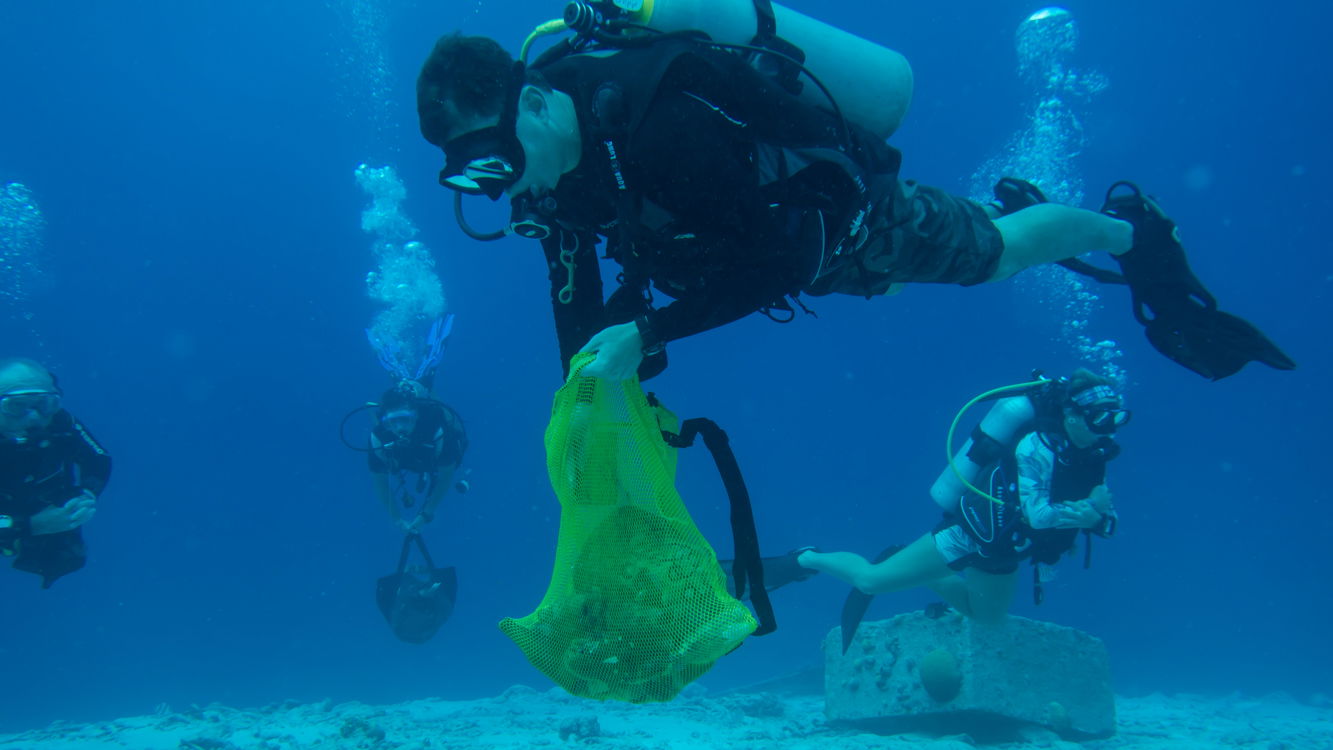 In Wadi Rum, we propose camel expeditions in the context of which you can give a part time for cleaning an area. In the North of Jordan, why not to collect some litters while hiking?
* * *
contact us

for more information...