The historians use to distinguish a Persian period between the Iron Age and the classical times. Some chronologies however include this period inside the Iron Age II. This period is clearly defined: it starts in 539 BC, date of the capture of Babylon by the Persian king Cyrus II, and extends till the conquest of Alexander the Great in 332 BC.
It is generally accepted that Cyrus annexed Palestine and Syria together with the Babylon conquest, recuperating in the same time the areas controlled by the previous rulers (the Assyrians). Nevertheless, it is difficult to estimate the effective control that the Persian had over the Transjordan. Cyrus the Great allowed the empire's heterogeneous population's cultural and religious autonomy. Therefore archaeological evidences related to this rule are poor and often uncertain. There is no historical source mentioning the Transjordan during this time. Therefore, we can suppose that the life of the people in our regions continued in its secular and quiet routine. (Photo below: extension of Cyrus' empire)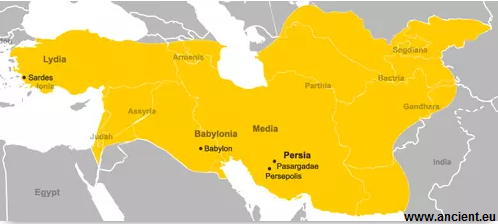 Objects found in the excavations witness of intense cultural and commercial exchanges between Near-, Middle-East and the Mediterranean word, as this small Greek Glass Amphoriskos found in Amman as well as the pottery seals from Mesopotamian influences.